Fashion Faces, Styling
Backless blouses are a style of women's clothing that flaunts the wearer's back. Wear it with a saree on any occasion or as evening wear or as wedding dresses; it'll flaunt your looks and make you look confident and attractive. We live in a time where everyone is attracted towards modernity, and the same spark can be seen in ethnic wear, backless blouses are modern wear with a fit of a traditional look.
Women are eventually more focused on how they look with these blouse designs. Be it any occasion or a function, a marriage, a party, or any event you have to rock. You can absolutely flaunt your curves, be a head-turner, look fantastic, and feel wonderful and fabulous with a beautiful backless blouse.
Kreeva offers every woman one of the most stunning and stylish backless blouses with a design of intricate embroidery for all occasions. You can wear it on festivities including weddings, ceremonies, sangeet, parties ensuring each woman a modern look with a spice of traditionalism.
Go backless for an effortlessly stylish look. A woman's love for amazing backless blouses knows no bounds. More and more brides now confidently flaunt what makes them feel elegant, royal, and appealing. These designs have led to the record-breaking craze in women, and one can't help gushing over these stunning designs that are stylish and out-and-out beautiful.
Modern Wear with a Spice of Traditional Look
Women wear a significant change in styling and designing; backless blouses are a kind of women's wear that most women look for when wearing a lehenga or draping a saree. These blouses make the look more elegant, and for the women having a desire to have an amazing modern look in ethnic wear, these blouses are one of the best options. Admire the wonderful design that has the trend-setting demand during the wedding seasons and festivities.
While the old-school designs always entirely focused on the front neck designs, the modern blouses greatly emphasize the back necks. The back is the most visible part of the blouse and is the ideal spot for playing creatively with layouts. Lookup for the backless blouse online, and you will find a plethora of versatile choices having unique patterns and decorations, making the wearer look completely regal.
Comfortable and Trendy: A Perfect Fit to Shine At Any Party
The material used in all these backless blouses is very comfortable, smooth, and, most importantly, breathable. The cloth used to make the blouse is lightweight, which appears very comfy and suitable to be worn at home or on any occasion.
For sure, you will flaunt your back at any party, making you feel comfortable, confident, and attractive. A well-tailored blouse and the blouse which compliments your figure will be much more comfortable to the wearer. An option of jeweled back is for the women who don't feel comfortable wearing completely backless blouses.
Women can try wearing jewels to have a more gorgeous and luxurious look. Some added features to the backless blouses, such as a knot, dori, latkans, or tassels on the back, which add grace to the blouse, make you feel more trendy and versatile to wear. Teaming the backless designer blouse even with a simple saree can enhance the saree's beauty and make you look more appealing.
Best Fashion Trend to Bare Your Back:
1. Best Backless Blouse Designs to Shine at any Party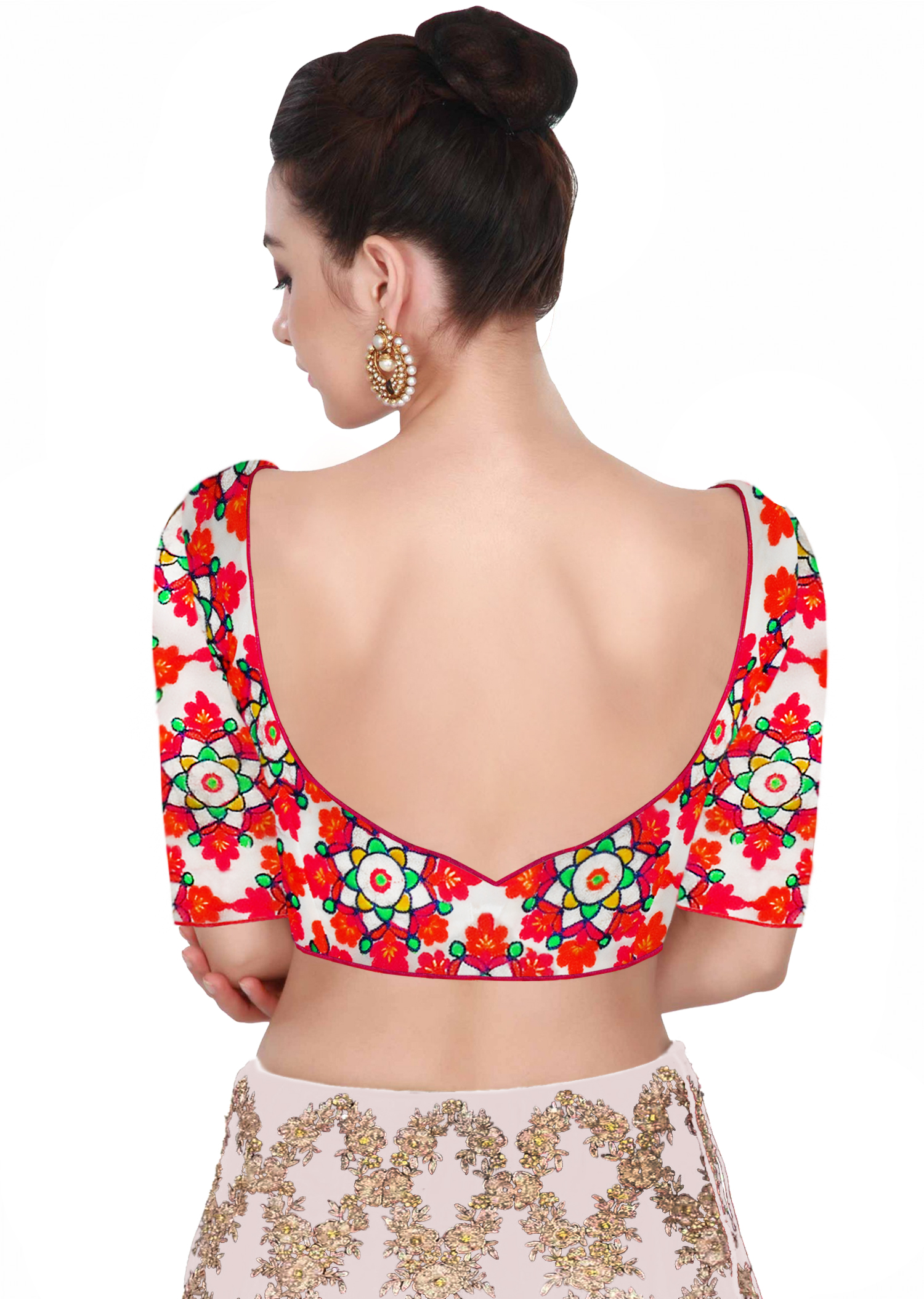 The backless blouses have gained immense popularity in the fashion world in these recent times. With the increase in demand, various backless blouses can be seen flaunting the world of women. You should choose the best backless blouse style that compliments your figure really well.
A vast number of variants that cater to comfort and mobility have given rise to a set of unique party wear blouses, which are just as lustrous as those of the old time's styles. A small guide to the most common backless blouses that are in trend nowadays is discussed below.
2.Simple Yet Trendy Backless Blouse
The most common blouse that one wears on most occasions is simple, but the deep backless blouse makes it more fashionable. A black backless blouse will make you look slimmer and makes you the center of attention.
If you want to go for a much elegant and beautiful look, then you can choose a red backless blouse for the occasion like parties. A beautifully designed blouse with tassels back is ideal for teaming up with any multicolored or designer saree.
3.Backless Sleeveless Blouse
You can go for the halter neck backless blouse to show off your elegant back and collar bone. It is stylish and elegant, and it perfectly holds your body and makes you feel comfortable.
The no sleeve look will maintain its modernity, stylishly drape your saree to compliment it with your blouse. A backless sleeveless blouse is suitable for those with appealing neck bones and wants to have a sleeveless blouse to match their outfit.
4.Backless Blouse With Knot
This is a type of blouse which is new and super easy to carry. It covers itself with all happy vibes, and it gives a graceful look to your back, and the knot on the blouse or latkans brings a more dicey feel—a latkan vibes well with the saree color.
A knot at the bottom and a knot at the top make you look elegant and feel fantastic. A backless blouse with Dori can complete any traditional look that makes your outfit stand out from the crowd. The backless Dori blouse usually goes well with long sleeves and a single strip.
5. Boat Neck Backless Blouse
Choosing the right blouse neck design is quite challenging. Keeping in mind the body type, occasion, fabric, and type of saree, one design you can totally rely on is the classic boat neck backless blouse design. This is surely the most popular trend in the fashion market. These blouses are highly versatile and suitable for everyone and with almost any saree variety.
6. Full Backless Blouse
A full backless blouse shows your beautiful back and your collar bone features in a very appealing way. The combination of a saree and a blouse is incredible and fantastic. Kill the look by draping your saree with this blouse and a hair bun.
7. Backless Blouse With Bow
A bow design on a backless blouse is both stylish and sweet. A cute bow on any backless blouse makes the look more modern and trendy. This is one of most women's favorite designs because it's sensuous, stylish, and evergreen.
One can add a decorative bow to a plain blouse or another way round but keep them in contrast so that the bow lifts the backless design and balances it out. Wear a backless blouse with a bow to weddings or any traditional event and flaunt your looks.
8. Deep Neck Backless Blouse
Try on the deep velvet neck or V deep neck backless blouse. This lehenga blouse design is simply alluring. For this wedding season, let go the conventional bridal blouse design and go for a deep neck backless blouse instead. Find a modern twist to the traditional blouse design, this deep neck blouse is winning hearts.
9.Bejeweled Backless Blouses
Go desi with the bejeweled backless blouses. Outshine any look with the jeweled backless blouse, which makes any look appear royal and artistic. A deep cut revealing your back with the thing dori and latkan gives your super traditional blouse and ultra-modern and alluring touch.
You can go for any readymade backless blouse to kill the occasion. All variants of the backless blouse are absolutely stunning and gorgeous. Either go for the adorable Indian backless blouse or low neck backless South Indian blouse; you are surely going to rock the occasion.
Why Do Women Prefer Wearing Backless Blouses More With Saree?
The main reason women prefer backless blouses is that they are in fashion, they are trendy, and such blouses have also gained popularity because they are very comfortable. Women don't have to worry about the comfort level and they can effortlessly pair a backless blouse with any saree or lehenga. With comfort comes a level of confidence and these blouses will surely add to every woman's confidence.
These beautiful blouses are traditional wear with a twist of modernism. The embroidery on the blouses makes them more tempting for the women as they enhance the beautiful designs and compliments very well with the back, making women look extremely beautiful.
Conclusion
These amazing varieties of Backless blouses can make any attire look genuinely classic and eye-catching, and a correctly chosen blouse makes you look more elegant, royal, and fabulously appealing. Flaunt your back or collar bone with these blouses. Here on Kreeva, you'll find other blouses with refreshing and elegant designs and the latest patterns that'll give your ethnic wear a modern touch. These blouses have a traditional origin and are now designed with a sweet twist of modernism. Go and try these amazing and classic blouses to up your fashion game. Go with elegance and style hand in hand.