Fashion Faces, Styling
Sarees have been known to be women's favorite because of the endless styling possibilities they come with. You could drape them in so many ways and have a new ensemble ready in no time. All it takes to do that, is the perfect saree and a little bit of styling. Designer sarees especially enhance these styling possibilities because of their prominence of design and the work done on them. Reputed global designers today are experimenting with the drape of a saree and how it could be the revolutionizing factor in the fashion world.
If you have a special occasion coming up for which you wish to look your best, designer sarees online shopping would be a good addition to the list of purchases. The right color of it and the right pattern on it can help you outshine everyone around you. There is something in a designer saree that instantly makes you feel great.
Why Are Designer Sarees The Best?
Designer sarees bring in a sense of ethnicity, royalty, and elegance when a woman is draping them perfectly. They never go out of fashion as much as western clothing does. Exclusive designer sarees will always be golden for you. Most sarees today come in beautiful prints, patterns, and styles that enhance the overall style even more.
Also, you have the free reign to experiment and look timelessly beautiful. Sarees have now become a symbol of the modern woman making an ethnic fashion statement. There are endless options and you could very easily purchase the latest designer sarees online.
Why Buy The Best Designer Sarees For Your Wedding?
Designer sarees come from a place where every bit of the outfit has been pre-thought by the designer who knows what will look good. Designer sarees for weddings have numerous perks and you even need to look too much because you can buy designer sarees online. Endless types of designs and fabric options are now available so it would be on you to choose what you would want for your big day.
● Best Quality Of The Fabric
The fabric defines how comfortable you would be in the outfit. Good quality of fabric can bring out the design of a saree which is why for any designer, the fabric is the priority. Usually, a lot of research goes into selecting a fabric so you would be able to adjust to the best designer sarees online.
● Creative Design
The core reason why one goes for designer sarees for the wedding is that the creativity and the thought process which has gone into the making is extremely appealing. Whether it would be for the onlookers or the person wearing the saree herself, the exclusivity of the piece of clothing makes more than just something one would wear.
● Authenticity
When someone buys designer clothing, they are assured that it is something custom made for them to fit their purpose perfectly. This is the authenticity and exclusivity that comes with the best designer sarees online. You have the option to choose what's perfect for your day and what would appeal to you more. This is something that is more than needed in the world where everything is factory-made.
A Bride's Designer Saree Wardrobe
A saree captures the beauty of an Indian woman like no other ethnic or modern outfit will. They have been a staple to the wardrobe in many forms, be it a simple cotton saree for day wear or the most exclusive designer sarees for one's wedding. For a bride especially, choosing a good designer saree can be quite a dilemma but worry not. With a few tips, you will know which designer sarees to buy.
● Plain Silk Saree
Raw silk sarees often have sober embroidery and designs which reflect classiness. With a red and black designer silk saree in your wardrobe, it would be easier to put together an outfit for a day occasion. A lot of events follow during the wedding so this could be the perfect outfit for one of them.
● Shaded Designer Saree
A party would be a good occasion for a bride to wear the shaded two-color saree. It instantly speaks a different language as it is far away from the traditional single-color saree. You could even upscale a bit and purchase designer sarees for weddings with two shades and embroidery on the sides. This even has the potential for a wedding outfit.
● Traditional Silk Saree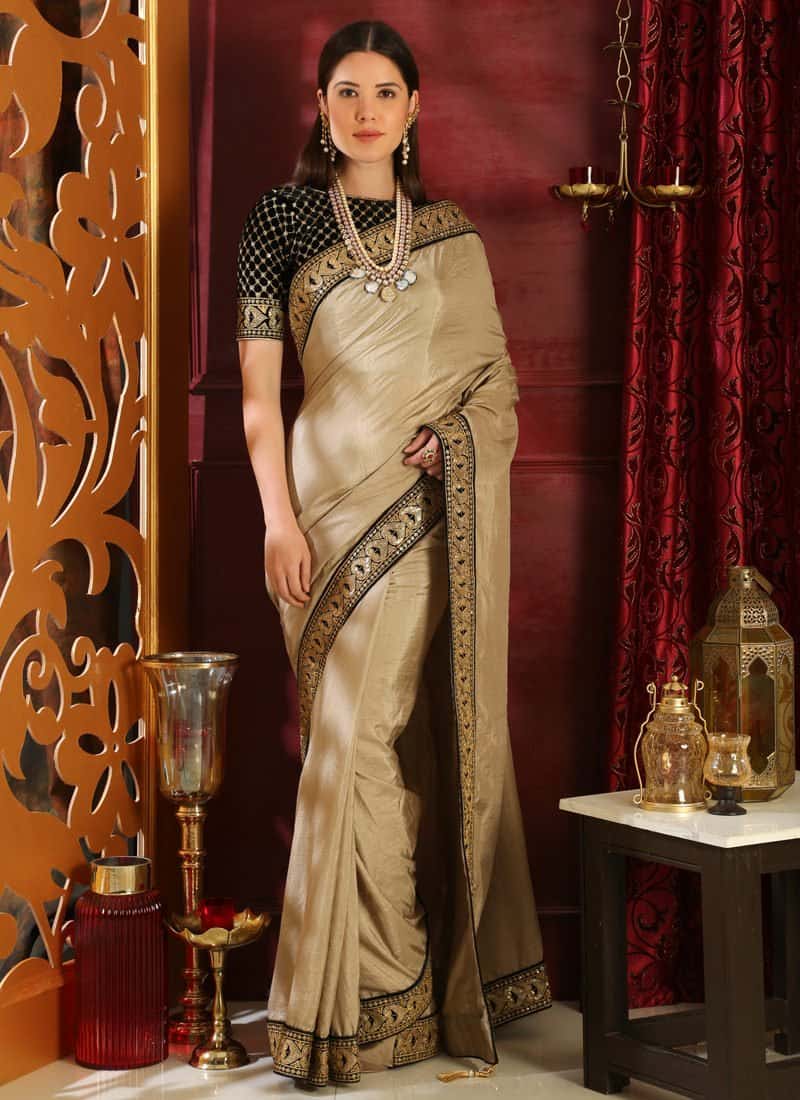 Have we forgotten Anushka Sharma's wedding reception designer silk saree? Of course not, but that throws a lot of inspiration for the to-be brides to catch onto. Receptions are not a grand affair at the wedding but you still have to look your best and that calls for a silk designer saree that instantly makes you look elegant.
● Lehenga Saree
Lehenga designer sarees are the true saviors for brides these days. Hardly anyone now wishes for the heavy lehenga but it is obvious to wish for that heavy look. That heavy look can be delivered with the help of a lehenga saree which is much lighter in comparison but works wonders anyway.
If you can choose even two out of these types of sarees, then you have the wedding ensemble ready. Exclusive designer sarees available online will come to your aid surely and you will be able to put together great outfits.
The Best Designer Sarees You Can Find Online
For those who are simply looking for designer sarees so they could add them to their wardrobe and maybe finally wear them one day, here's your guide to choosing some of the most wanted options in the plethora of latest designer sarees online. These are sure must-haves and you can choose some based on what you like and what suits your style more.
● Plain Blue Designer Saree
Wish to wear a saree daily. You can buy simple designer sarees online or look for ones with a little heavy work so it is easy to switch up on different occasions. Short meetings like puja etc. would be the perfect chance to wear a georgette saree especially if you can find a bright color.
The color of the georgette saree could be any and what matters most here is that the saree is very versatile and flexible in terms of the fabric.
● Black Net Saree
Do we know a better color than black? Truly not because no color will make you look more stylish and elegant. A net saree in black especially really makes a mark on the people you are wearing it around. It is also the perfect color for almost everyone and you could pair the designer black saree with a black net blouse that has a creative neck design.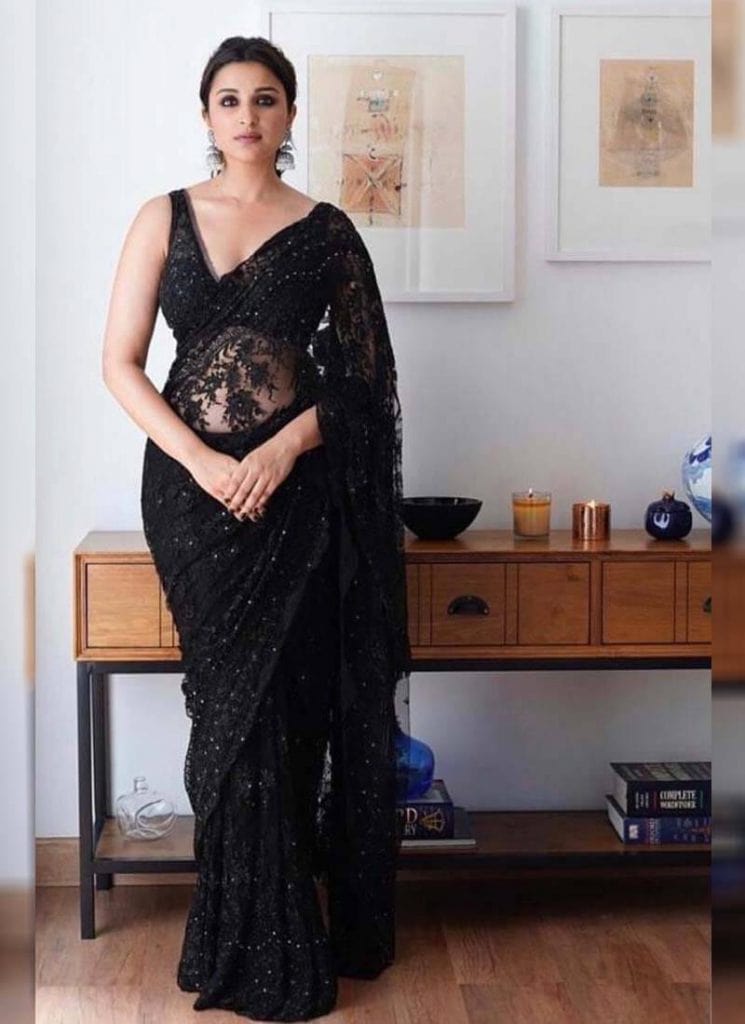 You can find the latest designer sarees online in net fabric because they are very much in trend at the moment and easily available. Wearing it to a cocktail party or a friend's wedding would be the apt occasion to get it out soon. Buying exclusive designer sarees is probably the best decision you will make to revamp your wardrobe completely. Adding some of the best sarees available online will not only make your collection more versatile but give you more options to experiment with. Moreover, most of the designer sarees you buy will last you for years so you can really make the best out of them. Only make sure you check the fabric you are most comfortable in and the colors that will make you look the best and you will be good with a perfect saree wardrobe.