Styling
Saree, the traditional Indian attire, is famous for showcasing the Indian culture and flaunting its elegance. Every woman in India or abroad loves to wear saree, and they have had an endearment with every Indian saree since childhood, as they have seen their mothers and grandmothers styling in this lovely attire. It is one of the most well-planned, gracious garments making every woman feel confident about herself and her looks. Even when we were a kid we loved wearing our mom's sarees and standing in front of the mirror and praising ourselves like a diva. This alluring piece can never go out of style and fashion. And with the online purchasing, love for this quintessential piece has grown even more.
The Different Types Of Sarees To Choose From
Sarees are the versatile attire in gleaming and vibrant colours that can provide any woman a flaunting look. But sometimes women get confused with the availability of an abundance of beautiful sarees. Many of you, may or may not be aware of the different types of sarees that are available for you. To help you to fill your closet with more radiant sarees, we have described below the different types of sarees you MUST buy online.
➢ The Bandhani Saree
Bandhani saree comes from Gujarat and Rajasthan, involving the tie and dry making procedure. Pre-tracing of design and skilled bandhani artists are involved in making this alluring Gujarati piece. This saree is considered to be very propitious. From weddings to casual parties, you will see every woman wearing the bandhani saree designed with polka dots. There are different styles of draping a saree, especially bandhani. You can style it with a belt, in the lehenga style, or a pant style.
➢ The Kota Saree
The breathtaking Kota saree is one of the most popular Indian sarees, known for offering comfort and style. It is the traditional saree made in Rajasthan's Kota city. These types of sarees are made from Muslin (a soft cotton fabric) keeping in mind the humid Indian temperature to offer every woman a chance to flaunt under the scorching sun. It is commonly known as the traditional saree because it holds a rich Indian history. Kishore Singh, the Mughal Army General took the craftsman from Mysore to Kota with himself in the 18th century for the production of sarees and from then it became a traditional Indian saree.
➢ The South Indian Saree
South Indian Sarees offer loveliness to every woman. These types of sarees are known for the southern silk reflecting inheritance of the year. The variety of south Indian sarees ranges from daily office wear to wedding wear. South Indian sarees are eye-catching and it will lead anyone to stop and stare at you for a second. You will find one, two, or ten pieces of south Indian sarees at every woman's trousseau.
➢ The Printed Sarees Online
You can buy a vivid variety of printed sarees online. The online marketplace is ready to serve you at a click. Whether you are going to a friend's wedding or celebrating your nephew's birthday and you are running out of choices, printed sarees will surely be your rescuer. These types of Indian sarees come in different patterns and styles like floral, straight patterned, zigzag, or polka dots. You can buy your treasured printed sarees online to be party-ready in seconds.
➢ The Banarsi Silk Saree
We all are aware of how famous the Banarasi silk saree is. We know that every woman adores this finest Indian saree piece. This Indian saree is the reflection of the excellency in craftsmanship detailing every small and little specification. These sarees were introduced in the market an era ago, and are still being praised and appreciated by every woman. These types of Indian sarees rule the fashion industry for their sophistication.
➢ The Kalamkari Saree
Kalamkari Saree became the topic of talk for every woman because of its prepossessing block prints and hand-painted design. Kalamkari sarees have made their own style space in the Indian saree market with the unparalleled beauty it offers to the wearers. These sarees for women can woo anyone with their grace.
➢ The Dhakai Saree
Dhakai Saree involves the combination of Resham, Cotton thread, and Zari. These Bengali traditional sarees have spatial patterns, florals design in them. They highlight the tradition and culture of Bengal. During the Durga Puja, you will see every Bengali woman wearing the lightweight and soft Dhakai saree. This saree involves the fusion of clothing during the ancient century when people used to wear clothes made from muslins.
➢ The Kanchipuram Silk Saree
Kanchipuram Silk Saree comes from Kanchipuram, a district in Tamil Nadu. These sarees have spelled the magic in the Indian saree industry because of its ostentatiousness. The making process of this attractive saree piece involves electroplating the saree with the pure gold treat so that every woman exhibits the pure Kanchipuram silk. The saree implies the awe-inspiring details making anyone fall for this stunning saree piece.
➢ The Paithani Saree
Paithani Saree will let you discover the entwine of Paithani in Maharashtra. The pallu of this antique saree piece involves peacocks, and floral design, circular patterns, or vertical patterns making them different and unique. This saree is quintessential for the ones who adore wearing cotton and silk and the biggest fans of handloom clothing.
➢ The Kasavu Saree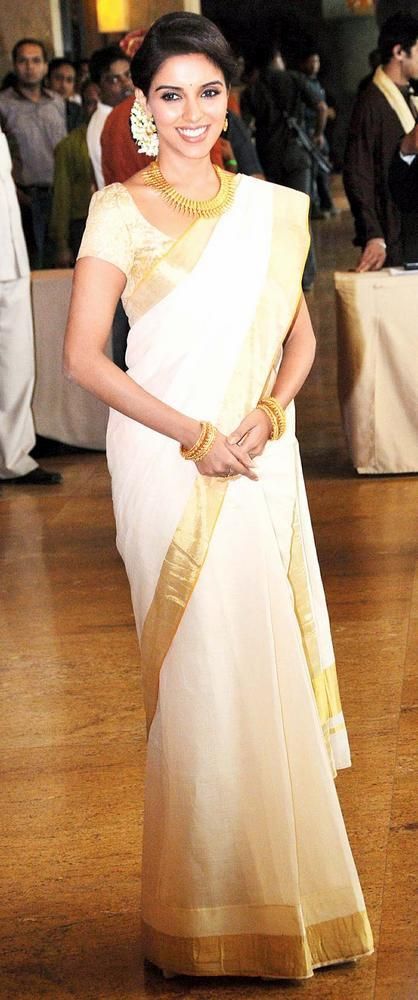 The Kerala traditional Kasavu Sarees looks to offer the aesthetic of India. These sarees are famous among every woman in Kerala. They love wearing it at weddings, parties, or any special occasion. This saree will make anyone look different from the crowd with its uniqueness. This plain saree with deep borders will let you do the experiment with the heirloom jewelry you have stored in your cupboard for years waiting for an occasion to use them.
➢ The Pochampally Saree
We all have worn our mothers classic Pochampally Saree once. Whether it was a farewell or being a guest at our best friend's wedding, this lightweight beautifully crafted saree is everyone's favorite. You can choose the silk or cotton Pochampally Saree or the blend and combination of both. The pattern, designs, and shapes in these sarees are inspired by Pochampally architecture.
➢ The Patola Sarees
The making of patola sarees inherits the complicated weaving process. It involves the tie and frown process, the same one as the Bandhani saree. The production process of this saree is not at all easy and swift. But when you wear it, you will look no less than a monarch. These sarees are durable ones. You can buy one and use it for years by mix-matching it with your ornaments.
➢ The Chanderi Saree
Chanderi Saree is made with pure cotton. The making procedure of this saree involves weaving silk and golden zari together to give it that sparkling and shimmery look. The name of this saree is derived from Chanderi, a small town in Madhya Pradesh. It is where the production of this startling piece started.
➢ The Chikankari Saree
The origin of this Chikankari saree dates back to the Mughal era. When the Mughal flag flew up in the sky, Noor Jahan took this piece of artwork at high esteem. The complex combination of stitches is involved in making a Chikankari sari. The highly demanded Chikankari Saree is the floral one. Florals of various sizes accompanied in the saree make it more appealing and idiosyncratic.
➢ The Assam Silk Saree
Assam silk saree is popularly known for the golden colour and shine on the fabric. By each wash, the fabric shines a little more. And, you can store this one piece for a lifetime, as the fabric of Assam silk saree never dulls or fades. Various colours are added in the embroidery to give it an appealing and everlasting look.
Why Buy Sarees Online?
The online marketplace will never disappoint you. While shopping saree online, you will come across the catalogue from which you can choose your preferred piece. All types of sarees, patterns, and designs of sarees are available online. Click on your favourite one and buy it. Avoid going and strolling for one saree piece under the scorching sun and buy your chosen saree piece at your home.
Saree plays a major role in the Indian fashion industry. It offers charm, style, confidence, and royalty to every woman. Above listed are some of the handpicked saree pieces which you see in every woman's cupboard. From our mothers to our grandmothers we have seen our beautiful ladies flaunting their loved saree with a great smile. As everyone says, if you want yourself surrounded by praises then buy a saree and wear it from the latest sarees online.