Fashion Faces, Styling
Women in India are spoilt for choice when it comes to traditional Indian wear. From Sarees to Anarkalis and Kurtis to Cholis, there are endless options they can choose from. But the one attire that tops every woman's list is the evergreen salwar kameez. This versatile outfit is perfect for all weathers, occasions, and age groups. Today, if you mention salwar kameez to an Indian woman, she'll have her own take on it. With evolving fashion, salwar kameez designs have also undergone several transformations. They can be teamed up with dupattas, shawls, or chunnis. Finding the perfect salwar suit for yourself is now a piece of cake!
Popular Styles Of Salwar Kameez Dress
Salwar suits for women usually consist of the top called the kameez and the bottom called the salwar. While traditionally, a dupatta was an essential part of the attire, in modern times, it is not believed to be that necessary. But with changing trends, the iconic salwar kameez designs have undergone several modifications. Before you decide to go shopping, you must know the various types of salwar suits available in the market. We have got some types of suits listed out for you to choose from.
● Anarkali Suit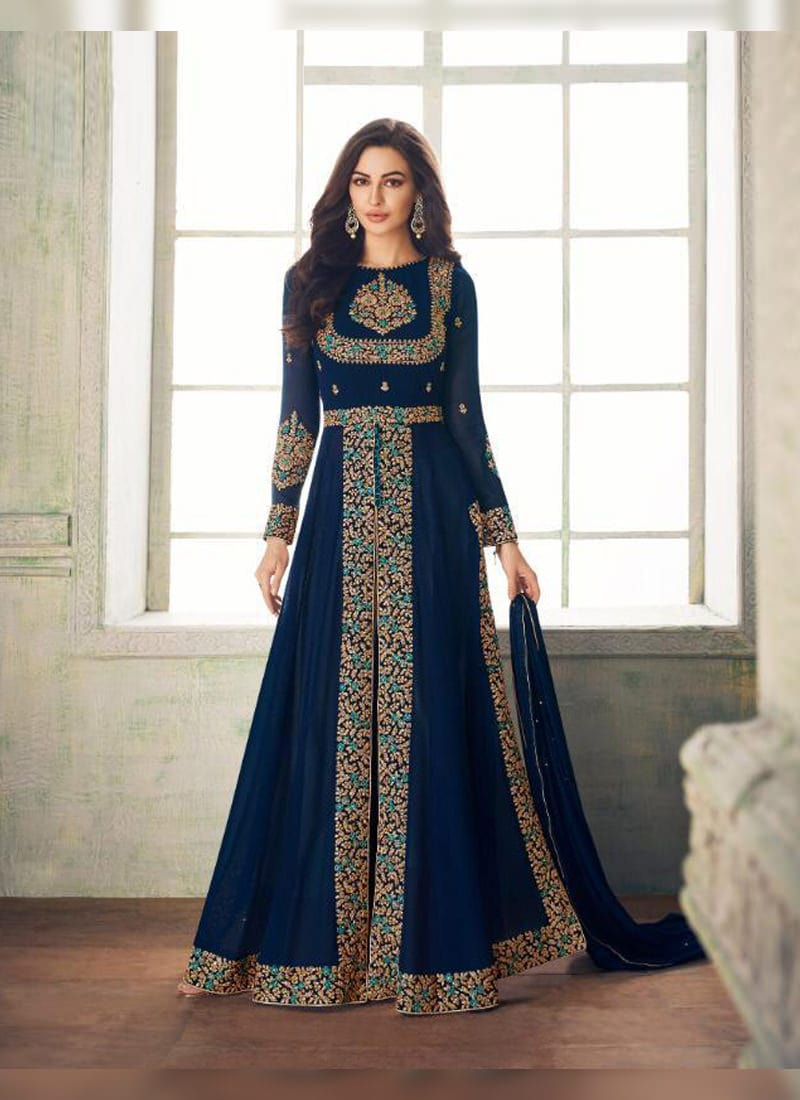 The regal and flowing Anarkali salwar suit holds the top position in the list of popular salwar suit design. The modern Anarkali suits are a subtle combination of the rich Indian tradition and the modernity of the 21st century. From the floor-length kalis to the A-line cuts, they flatter almost all body types and age groups. Synthetic fabrics such as georgette, chiffon, and crepe are perfect for this elegant outfit. Adding a potli bag makes the Anarkali suit perfect for sangeet and weddings. Jhumkas or decorative stud earrings can be used as subtle jewelry.
● Punjabi Salwar Suits
This salwar suit is the authentic and original design from which various salwar styles have evolved. The kameez is short and fitted, and the salwar is usually pleated. The patiala and dhoti pants are variations of the salwar. They give a chic and edgy look to the whole outfit. This style is perfect for a Sangeet party or a casual day out with friends. Since Punjabi salwar suits are made with colorful fabrics, opting for a plain dupatta highlights the kameez design. These are usually stitched using cotton or linen as these breathable fabrics can be printed and dyed in various shades easily. Tassels and potli bags are some accessories that can be worn with these suits.
● Palazzo Suits
The palazzo suit is a famous style because of its perfect blend of Indian and western traditions. The kameez is long and straight. The salwar is a sleek style consisting of wide flaring legs. It is perhaps the most popular Indian fashion followed internationally. It is perfect for cocktail parties and formal office meetings as well. Adding a simple accessory such as a dupatta or a scarf jazzes up the look effectively. These suits can also be paired with a jacket, which adds an androgynous element to the outfit. A long shoulder bag or a satchel with zari and mirror work would be perfect accessory additions to the overall look.
● Straight Cut Suits
For those who love minimalistic fashion, straight cut suits are the one for them. This style is simple, formal, and an ideal office-wear. The kameez is straight and fitted and paired with a churidar or a pant. This cut gives the wearer a tall and slim appearance. Usually, cotton and cotton silk is used for these suits. For more formal events like weddings, sangeets, or cocktail parties, georgette and chiffon can be used to stitch these suits. A long shoulder bag or an elegant clutch adds to the smartness of this salwar dress.
● Sharara Salwar Suit
This style is often confused with the palazzos, but the shararas are much broader and pleated. They give the appearance of a skirt pulled by drawstrings. Shararas are usually paired with a knee-length kameez. Since it adds volume to the figure, it is best suited for those with narrow structures. Sharara is a very cheerful outfit tailor made for parties and sangeet and mehndi functions. Potli bags, dupattas with zari work, and large prints add to the outfit's colorful appearance. Crepe and chiffon are the most commonly used fabrics as they add volume to the sharara.
● Pakistani Salwar Suits
These are so named as they take inspiration from the Pakistani style and tradition. These party wear salwar suits add a touch of elegance and charm and work well for both formal and casual occasions. They usually have intricate and detailed thread work and embroidery and are paired with churidars or pants. Silk, georgette, and chiffon are used as the detailed work stands out on these materials. Pakistani suits can be jazzed up with a traditional jacket. These suits usually use subtle, subdued shades such as beige, peach, and mint green. Adding dupattas with golden zardozi work or an intricate golden embroidery border takes the whole office look to a party look.
● Churidar Salwar Suits
It is impossible to talk about salwar suits without mentioning churidars. This classic style remains popular even today. The long churidar pants give the wearer a slim and sleek look. This good old style is a favorite among all age groups. Since this style is simple, it allows for experiments. Cotton, silk, and synthetic fabrics such as georgette can be used to stitch the kameez.
Additionally, it can also be accessorized with Kantha work dupattas, embroidered scarves, or big pieces of jewelry such as drop earrings and necklaces. If you use velvet for stitching the suit, then subtle jewelry pieces in matching shades are sufficient. This elegant fabric adds a touch of royalty to this indian salwar kameez.
Tips To Remember When Buying Your Salwar Kameez Online
To buy salwar suits online, there are some tips you must keep in mind.
● Choose The Right Fabric
The one downside of buying salwar kameez online is that you can't feel the fabric or try on the outfit. We recommend that you thoroughly read the product description. If you're going for churidar or Anarkali suits, choose a material with flairs such as georgette, chiffon, and crepe. Cotton salwar suits are comfortable and classy for casual events, but velvet gives a more royal and elegant look to salwar suits for weddings. If you opt for straight A-line Kurtis, go for rich fabrics like velvet, silk, brocade, tussar, or chanderi. There is no rule when you choose your salwar kameez. Experiment with the fabric and decide which suits your body type best.
● Style
Go for a salwar kurta style that best suits your body type. Make sure to carefully look at the size chart and order the suit which fits your body type. Those with plumper bodies can go for straight cut suits for an overall slim and sleek finish. Those with lean bodies can go for anarkalis to add flair and volume to the outfit. Experiment with different designer cuts. Some styles you can try include the one side slit, dhoti cut, side trails, front slit till the waist, zipper above the waist, and asymmetrical hemlines. These make your outfit stylish and distinct.
● Choosing Between Stitched And Unstitched Suits
If you have a textbook body type for salwar suits, you can opt for readymade salwar suits. Slight alterations for the perfect fitting can be easily done. Those on the fuller side can opt for unstitched or semi-stitched suits so that they can be stitched correctly according to the measurements.
● Choose The Color Wisely
Colors add beauty to the outfit. But the wrong choice can end up making your outfit seem loud and tasteless. Dress according to the occasion. Go for primary colors for weddings, sangeet, and festivals. Receptions call for pastel and subdued shades such as peach, aqua, and soft green. For a formal black-tie event such as a cocktail party or an office outing, opt for darker shades of maroon, navy blue, and black. For a casual day, go for pista green, indigo blues, and baby pinks.
● Length Of Sleeves
The length of your kameez sleeve can make or break your outfit. The latest salwar kameez trend is long sleeves, but do not follow it blindly. Choose your sleeve length based on your body type. For instance, sleeveless kurtas may not be a good choice for women with very bulky or slim arms. Cap sleeves, elbow sleeves, and mid-arm sleeves are equally popular choices. You can also opt for balloon sleeves, cold-shoulder cuts, and cape style sleeves for a unique look.
While shopping for salwar suits online, it is necessary to check the credibility of the website. Return policies and customer reviews further help you decide whether a particular salwar kameez is worth the price. Salwar suit online shopping leaves a customer with endless options to choose from. Kreeva lets you shop for ladies salwar suits by color, occasion, type, and fabric. This will help you shortlist your favorite styles. With their extensive collection and price range, they ensure that you find the perfect fit for yourself. The positive customer feedback clearly shows their credibility in the market. You can subscribe to the newsletters on their website to receive the latest updates about new stock, sales, and discounts. Shop wisely but don't forget to treat yourself!