Styling
Palazzo dresses are not novel, and they have remained in existence since Coco Chanel wore them for the first time in the late '60s. Since then, a plazo dress has been evolving and ruling the fashion industry with a bang. A set of well-picked palazzos can seamlessly enhance the wearer's beauty by presenting them with uber-cool and bohemian vibes. This palazzo dress perfectly blends the beauty of a skirt and the convenience of pants. With this great alliance, what is not to cherish about a palazzo dress. The palazzo pants have made a huge comeback in modern times, but with a twist.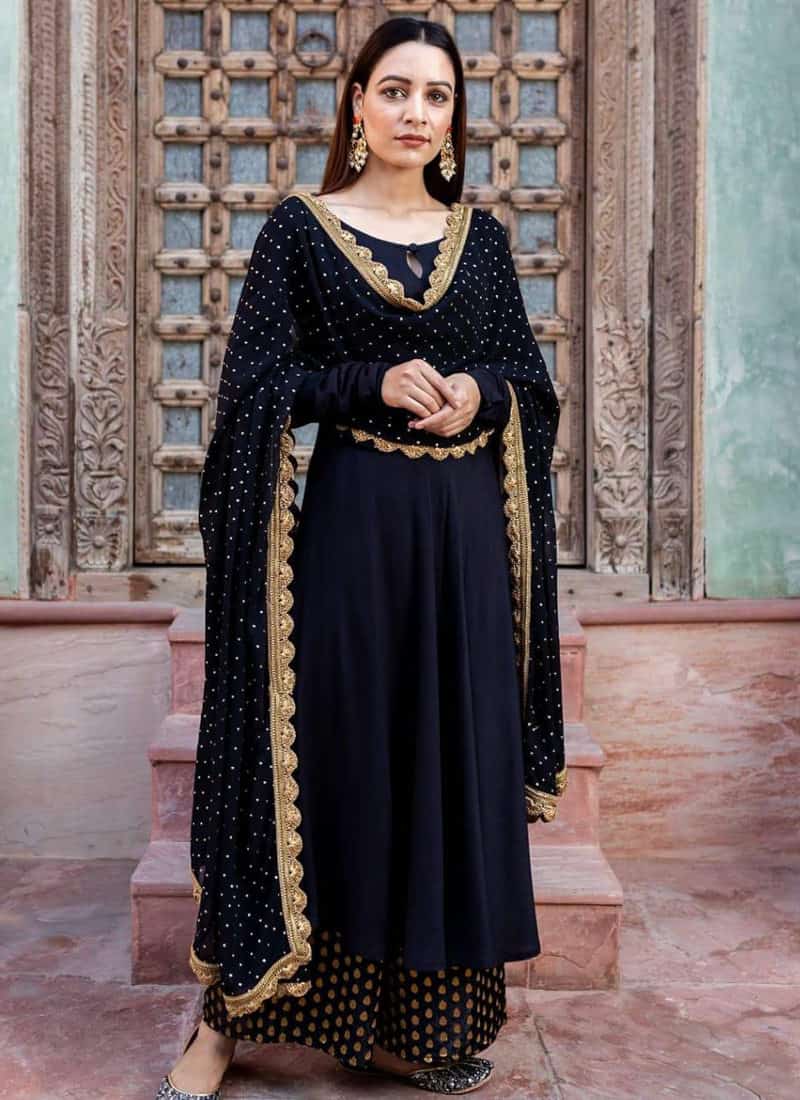 Style The Palazzo Dress With Class
The prominence and popularity of a palazzo dress have increased over the past few years. More women are experimenting with this outfit and looking for some elegant plazo dress online. Apart from wearing a traditional palazzo suit, you can also style these palazzos with ethnic blouses, tops, Kurtis, and even Anarkali Kurtis, depending upon the event the wearer is attending. Because of such a massive amount of diversification rendered, palazzos are in the spotlight this season.
With an impressive ability to present legs with the required breathing room, this stylish palazzo dress is the most favoured choice of modern-day women to get the utmost comfort and absolute elegance and look surreal at the workplace, formal or informal event. Due to this enhanced comfort and chic style, these fashion-forward pants are swiftly evolving as the go-to selection of women from diverse walks of life.
In addition to this, formal plazo dress is also becoming most popular among college and office-going girls due to its versatility. This palazzo dress comes with extolling silhouettes and cuts that go perfectly with every body type. Indian women have accepted the palazzo pant dress with all their hearts. This has earned the attire the highest rank in the Indian fashion industry. However, due to the large assortment of palazzos available, many feel overwhelmed by the type of plazo suit design they should choose and how to style them.
To solve these, mentioned below are some amazing tips that will help the ladies carry a palazzo with style and achieve that dazzling and radiant look.
1.Palazzo Pants Paired With A Long Kurta
This ensemble is the most preferred outfit of every working woman in contemporary times. The main reason why so many women choose this stunning and latest palazzo suit design is its comfortable wide bottoms. When paired with a straight cut kurta, it can further make you look taller and lean. It's airy and flowy material is the most suitable choice for summers. A palazzo with a long kurta can make you look chic or sober, all depending upon the accessories you chose and the way you pair them. This outfit holds the power of looking good on every body type, and it comes in distinct designs and embellishments that make it flawless for every workplace event or wedding functions.
2. Palazzo Pants Paired With Crop Tops
Palazzo pants paired with crop tops are the most suitable for Indian suits with palazzo pants for women who want a more bold and chic look. This dress looks perfect on all body types, and girls can easily pair an ethenic or modern crop top with palazzo pants. You can also pair a long jacket or shrug with the crop top and palazzo combination to get a formal look, ideal for any workplace parties. On the other hand, this ensemble can also be designed for a wedding – a flared palazzo pants paired with a heavy embellished top or blouses.
You can easily receive different styles of this palazzo dress online in various colours and pattern selection. So, if you are looking for something chic and elegant at the same time, then you must try this beautiful combination and pair it with some oxidised jewellery to level up the fashion game.
3. Palazzo Pants Teamed Up With A Front Slit Kurta
Another alternative to donning a palazzo is teaming it up with an A-line kurta with a deep slit in front. This simple palazzo suit can present women with a contemporary and ethnic look at the same time. You can easily choose the contrast hues or the multi-colour front-slit kurta to get an enchanting look.
This outfit is regarded as the most chosen outfit for every festive occasion and workplace event. The chic style of the slit cut palazzo suits can make you look beautiful for every special occasion. This ensemble is ideal for making a bold display of personality and standing out in any crowd. If you yearn to stand out from the masses and show your fashionista style, then choose a centre-slit kurta instead of a side-slit kurta.
4. Asymmetric Kurta Paired With Palazzo Pants
Asymmetric designs and patterns are pretty much in vogue in the present days. They are an outstanding selection for a comfortable trip with family and friends. Asymmetrically party wear plazo dress is ideal for a modern-day wedding function or any other formal event where women must pull off the dazzling-but-effortless look.
In case you want to create a gorgeous and royal look, you can opt for a heavily embroidered or embellished asymmetrical kurti paired with a traditional palazzo that holds detailing or golden borders at the bottom to redefine the beauty and bring out the inner radiance.
5. Flowy Skirt Style Palazzo With A Short Kurta
Another palazzo dress option to get a more beautiful look is a flowy skirt style palazzo (also known as sharara palazzo) paired with a short kurta. This outfit is the most appropriate choice for an engagement or sangeet where a woman wants a chic and elegant look.
Printed palazzo paired with the accurate trendy piece of accessories is a great alternative to simple or plain skirts. They give the perfect feel of a Punjabi plazzo suit and make heads turn on every occasion.
6. Palazzo Pants Paired With Anarkali Kurti
Anarkali Kurtis are an essential item in any girl's wardrobe. Apart from pairing these Kurtis with leggings or straight pants, you can pair an Anarkali kurti with a palazzo pant to get a refreshing and stylish look. This kind of palazzo dress looks stunning on every occasion, be it a marriage function, dinner parties or even a formal office gathering.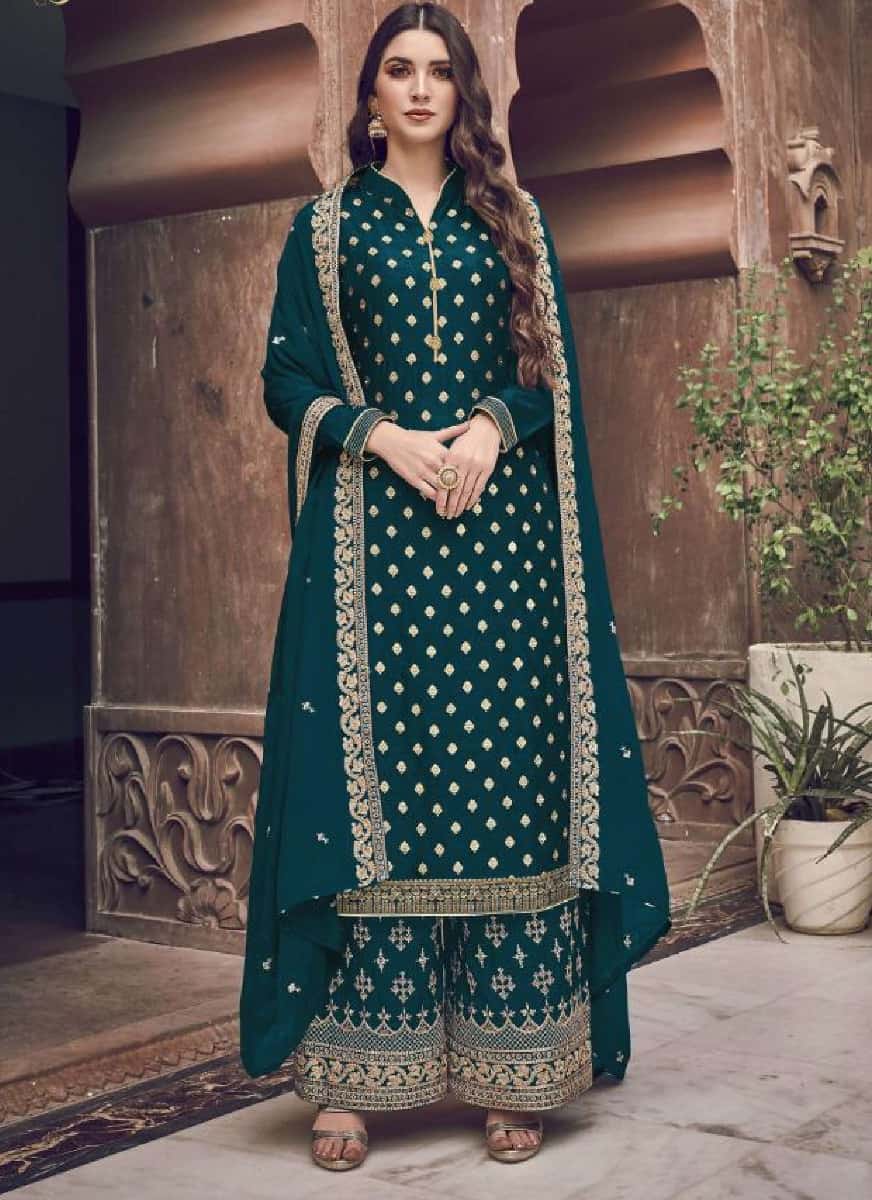 Moreover, you can choose from a wide range of palazzos designed for Anarkali suits and match perfectly with all the simple or fully embellished Anarkali Kurti. To get a more enchanting look, you must pair this palazzo suit with partywear with some gold or diamond jewellery to get a surreal and breathtaking look.
7. Palazzo Paired With A Stylish Jacket
Palazzo paired with a stylish jacket is a perfect combination of western wear and Indian ethnic wear. Furthermore, this combination also makes a woman look chic and stand out from the crowd. To get a more refined and elegant look, you must pair palazzo pants with peplum jackets which are most popular in the present times. These peplum jackets come with detailed embroidery work that makes them a perfect pick for all festive occasions and wedding functions.
Apart from this, all the detailed embroidery is handmade, which will take the fashion game to another level. These palazzo suits party wear are the most prevalent alternative for festive seasons as the peplum jacket will unquestionably bring the wearer into the limelight.
8. Palazzo With A Printed Kurti
A palazzo with a printed kurti is the most suitable outfit to beat all the upcoming summer heat. For all the women who are a die-hard fan of modern and traditional prints, there are lots of plazo suit design available online. You can easily choose a printed Kurti and a palazzo to get that perfect look at the workplace or any other day time event or maybe just a casual lunch date.
If you are looking to don a more traditional look, you can choose a colour-coordinated set of heavy work kurti with prints at the bottom along with printed palazzo to make it a palazzo suits party wear which is most appropriate for all wedding events.
Where To Get One?
Palazzo dresses are one of the most suitable examples of how an informal and comfortable outfit can be the trendiest outfit in present times. Not only are these palazzo dresses utterly classy, but they are also exceptionally comfy that supports the women in a stylish and comfortable movement. Women of all generations prefer these palazzo dresses because of their trendy and ultra-casual look. Hence, it would not be wrong in saying that these palazzos are serving the women most suitable in living a modern and relaxed life.
When seeking a unique collection of plazo dress for wedding, Kreeva.com is the perfect stop.  Kreeva is a one-stop destination for all the western and ethnic wear needs of modern women. They hold a wide variety of Indian palazzo suits online with the most excellent quality fabric and patterns at the most affordable and budgeted price range.