Styling
Traditional outfits have always been part and parcel of every Indian wedding. Over the years, there have been several changes in the styles of the clothing pieces. From heavy Banarasi work to the evergreen Bangalore and Kanchipuram silk sarees, blouses have been a constant and common to all. A beautiful blouse design can instantly change the overall look of your outfit.
Weddings are synonymous with fun with family and friends, lots of traditions and rituals, and the perfect reason to add more ethnic clothes to your closet! Be it sarees, dhoti pants, skirts, palazzos, or the very traditional lehengas – the right blouse design can instantly add the wow factor to your outfit. Your blouse is usually the part of your outfit, which decides if you are under or overdressed. The huge variety in different designs of blouses indeed spoils you for choices.
Shopping for blouses that suit your body type and complimenting your outfit can get tricky if you don't have a decent idea. The difference between a show-stopping outfit and a traditional fashion disaster is usually your blouse design. This wedding season, shop for the most beautiful blouse designs available online and turn heads at every function.
The Need For The Perfect Blouse
When it comes to traditional outfits, you have a wide variety of conventional and intricate works from all across the country. You can indeed go for a readymade set for your traditional moods, but the best thing about traditional outfits is that you can always mix and match to get the look perfect for you. Also, there is bound to be a clothing piece like your favourite skirt or lehenga or that saree from your mom's closet that you just can't get enough of; for those evergreen pieces, a trendy blouse design can instantly revamp the whole look of the outfit. It can be paired with many skirts, pants, and sarees and even help you switch from casual to festive within minutes.
With the huge variety of prints, designs, embroidery, and colours available, you can always be spoilt for choices when it comes to wedding blouse designs. We bring you seven amazing blouse designs that you can choose from to rock your wedding look for every function.
Seven Blouse Designs To Fall In Love With
When it comes to finding the perfect blouse, you need to consider a lot of things – blouse neck design, sleeves, fabric, and style, to name a few. There are, however, a few styles that suit most women, and you can definitely find the one for yourself at online stores.
1. Backless Blouse
Every saree lover knows about the iconic duo of a backless blouse and traditional zari work saree. A backless blouse is a perfect way to flaunt your bodies and slay the day. You can go for solid colours or printed backless saree blouse designs for your printed or solid coloured chiffon sarees to get that perfect daytime festive look for Haldi and Mehendi ceremonies. For more festive occasions like sangeet or cocktail parties, go for heavily embroidered blouses and pair them with palazzos, skirts, or pants and capes for the perfect indo-western look. If you want to keep your look festive but subtle, go all-in with a trendy sequins blouse and colour block it with a bright coloured saree.
2. Boat Neck Blouse
Preparing for weddings also includes those workout sessions and diets to get in shape and fit into your favourite dress. This wedding season, flaunt yourself and add that dash of elegance to your outfits with boat neck blouse design. What makes these blouses so elegant is the neckline? For people with a short neck, this style gives the illusion of a longer neck. Available in a variety of colours and fabrics, boat neck blouses, when paired with sarees, will instantly add the glam to your outfits.
You can also upcycle your old lehenga choli with a choli blouse design with a boat neck from Kreeva. A blouse with a boat neck neckline also works well as part of a crop top and skirt ensemble outfit. If you are not a fan of jewellery, get a boat neck blouse with an intricate neckline pattern. They can be styled only with a pair of earrings and neat hairdo and still look charming and festive. Boat neck blouses are not just an excellent choice for weddings, but you can also reuse your silk boat neck blouse for semi-formal office parties or festive celebrations and events in your college.
3. Collar Neck Blouse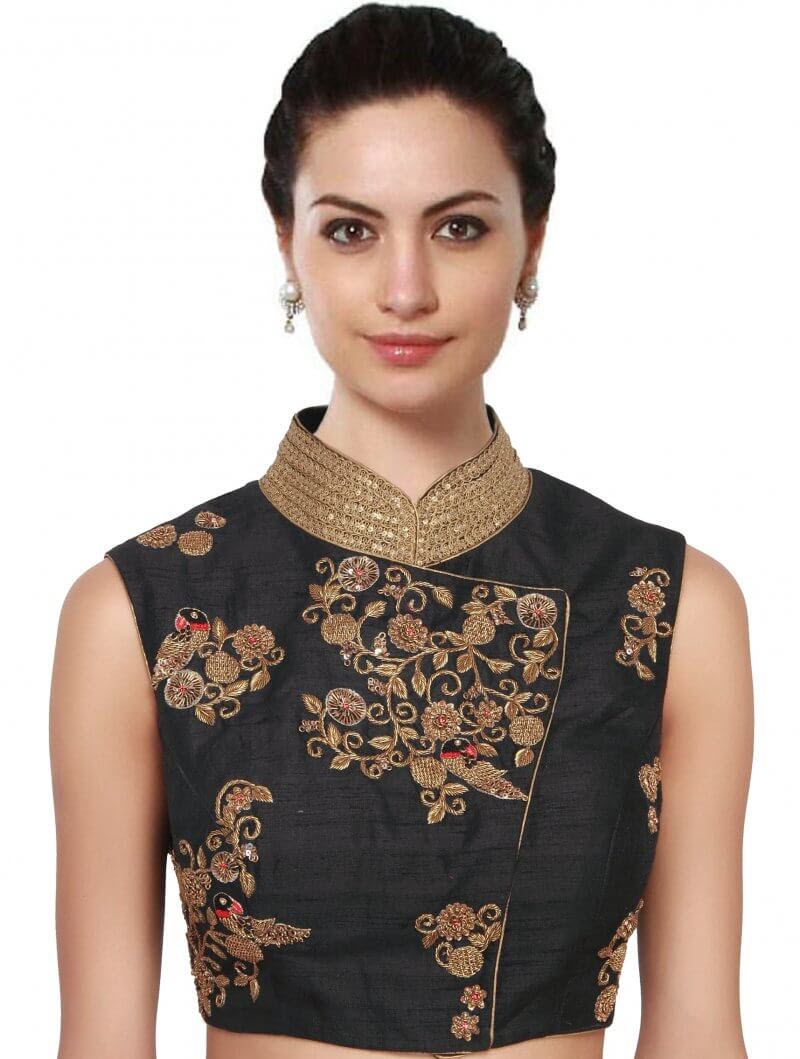 Thinking of what to wear at your colleague's wedding party or wondering what to wear to your neighbourhood friend's wedding, go for an elegant blouse with a collar neck to get that subtle yet traditional look to your outfits. Available in a variety of collar styles like the shawl collar, peter pan collars, high collars, bow collars, etc. you can get a collar neckline to go with your outfit smoothly.
If you are someone who doesn't like wearing a lot of jewellery or heavy neckpieces, you can also go for a collar neck blouse design with heavy zari work at the neck and ditch the necklace without compromising with your look. Collar neck blouses also work well with chiffon sarees. The heavy work blouse adds the much-needed glam to your simpler saee and changes the overall look.
4. Crop Top Blouse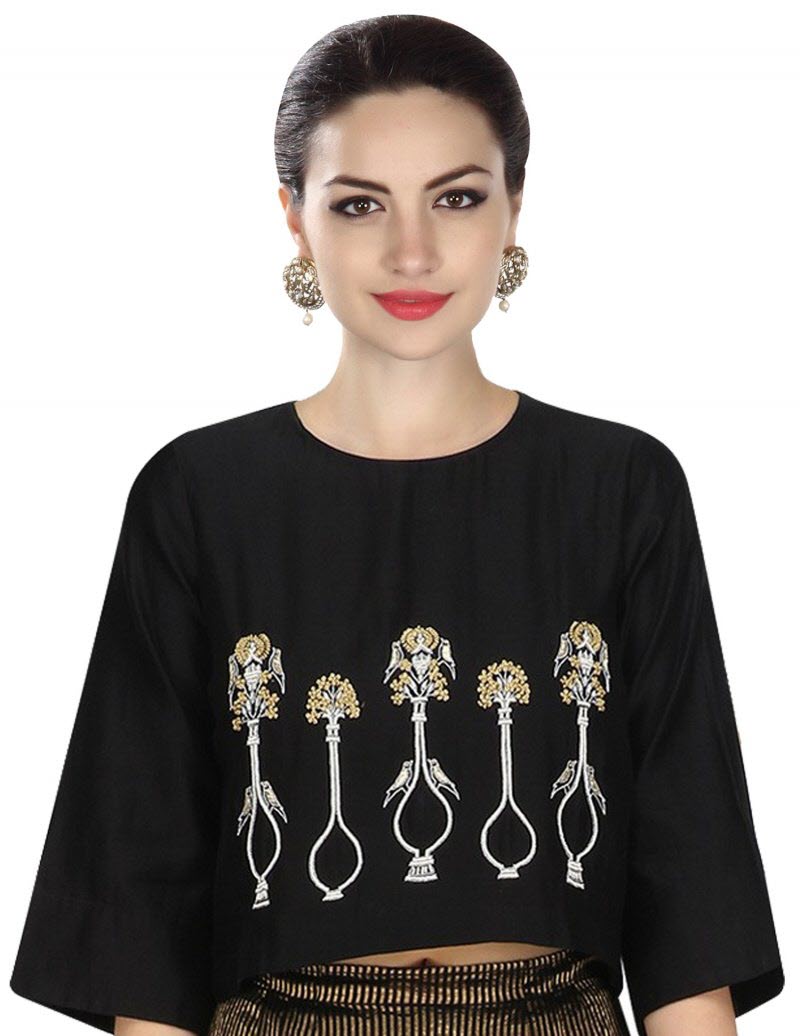 Combine trendy with traditional this wedding season with crop top blouses. Ranging from simple solid-coloured styles to heavily embroidered bright coloured blouses with elegant neck designs and sleeve styles, you can find the ideal crop top blouse for your outfit look. For those who like traditional outfits with a western twist, you can always pair crop top blouses with bright coloured straight or dhoti pants and add a shrug and statement jewellery with traditional sandals and get the perfect indo-western wedding party outfit.
With several blouse-neck designs, get ready to mix up your regular outfits and add the trendy look with crop top blouses. Like boat neck blouses, a crop top blouse design will also come in handy when you want to go for a casual look with printed sarees or palazzo pants.
5. High Neck Blouse
If the minimal look is your ideal look and you plan your outfits to be elegant, high neck blouse designs are suitable for you. This wedding season take out the silk sarees from your mom's closet and style them with matching high neck blouses for the most elegant saree looks. You can also pair your heavy brocade, high neck blouses with flowing traditional skirts and lehengas. Accessorise with heavy earrings and bracelets or bangles for the outfit of the day looks. High neck blouses are also another amazing alternative to heavy jewellery. Get one with heavy embroidery at the neckline, and you have the heavy outfit look without having to invest in heavy jewellery.
6. Long-Sleeved Blouse
While every woman shares the common experience of going for winter weddings without sweaters to keep the look of their traditional dress intact, we all know having fun can be difficult when you are shivering from the cold. For weddings like those, we suggest getting full sleeves blouses in silk fabric. Full sleeved wedding blouse designs are not just comfortable on chilly evenings, but also add the right amount of sophistication and elegance to your outfit.
You can also get various sleeve styles like kimono sleeves, cape sleeves, etc. to pair with your skirts or use as a choli blouse for renovating your favourite lehenga. A kimono-style long-sleeved blouse when paired up with flowy skirts and with statement jewelry will also be an excellent choice for daytime functions like Haldi and Mehendi.
7. Round Neck Blouse
While you can always go for the latest saree blouse designs, the evergreen look of the plain old round neck Indian blouse design never goes out of trend. Ideal for pairing with sarees and Ghagra, these elegant yet straightforward clothing pieces are sure to make your outfit stand out. Style your saree with round neck silk blouses with colourful embroidery for a dreamy day-time outfit. For evening and late-night functions like the sangeet, cocktail parties, and weddings, you can go for heavy zari or Dori work blouses to pair with your saree or lehenga. You can also get simple solid colour round neck blouses with light zari work to go with your heavy lehenga.
With so many styles and blouse patterns, blouses have become the most versatile clothing piece for traditional outfits. A good quality blouse adds more style and elegance to your traditional outfits. Since you can style your blouse with practically every traditional dress and sarees, you can mix and match a single beautiful blouse design with different clothes to create numerous outfits.
At Kreeva, you can go blouse online shopping and find the best blouse design sitting at home and get safely packed delivered to you. Browse through their fantastic collection of recent blouse designs by specific categories like colours, design, style, or fabric type and get the perfect blouse to rock the show this wedding season.